Mated to the Pack: A Paranormal Reverse Harem Romance by Jade Alters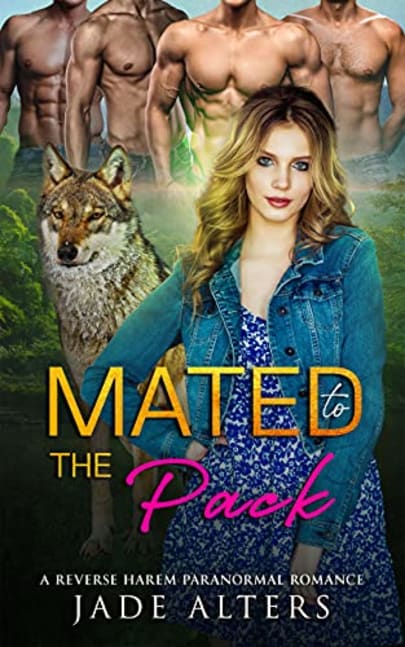 Back Cover …..
Mercenaries…all four of them Half-Wolf and Half-Man…and all of them willing to risk anything to keep her for the pack.
Vivian was thankful for everything her wealthy Aunt left her.
Until she found out that also meant she's now responsible for that old run down mansion she grew up playing in.
She would keep it, but she would go bankrupt; she would sell it, but there's no one out there to buy it.
That's when four super-hot and mysterious renters show up to save the day.
They've got more big secrets than she can handle though, the biggest of which might be why she's finding herself drawn to each of them.
Call it nature.
Call it instinct.
Whatever it is, this pack has found its mate, and the only question is going to be whether Viv can handle being mated to this pack.
Mated to the Pack: A Paranormal Reverse Harem Romance is a standalone story with no cheating or cliffhangers. It contains language and sexual content.
My Review……
A short and sweet story. Could have done with a little more work, had potential for more 🤨
Vivian gets rescued by 4 mercenaries (they call themselves a security team) after she gets kidnapped in Columbia, she's there on a dig, and is kidnapped by a ruthless band of guerrilla's.
She doesn't know who they are, but she's grateful when they get her back to USA soil. Vivian decides that's enough excitement for one lifetime and retreats to her aunt's home. Finding that the aunt has died and left her everything (including the house she remembered fondly as a child) but what Vivian doesn't bank on, is the rundown and neglected state the house is in.
The four pack members (Lucius the Alpha, Sean, Kyle and Daniel) have been assigned to protect Vivian after the professor confessed he may have taken something and hid it in Vivian's bag!! The race is on to arrive back in the USA and protect Vivian (preferably without her knowing) but all bets are off once the pack realise she is their mate!!
Usually when I read this type of book, all the males are in agreement and are use to sharing (and in fact are looking for a female to complete their pack) but with this book, none of the males wanted to share (in fact a few fights break out) and Vivian isn't feeling the pull like the men are (in fact after a wild night, Vivian isn't sure it's a good thing)
So when danger comes to their home, will it be too late for Vivian to tell her men that she wants to live the pack life?
🦋
Once they rescued professor Rick who had been captured by LI, he told Lucius he had hidden intel of the cartel LI in Vivian's back back and they would be after her. The team need to watch after Vivian. But it got complicated. The men were wolf shifters. The pack was solid but when the men start to belief that Vivian is their mate!